"As the chairman of this school, I ask you with sincere respect, would you like to become our teacher? Onizuka...no, Onizuka-sensei!"
---Sakurai plead Eikichi Onizuka to join her school.
Ryoko Sakurai (桜井 良子, Sakurai Ryōko) is the Chairwoman of the prestigious Seirin (Holy Forest) Academy. Despite her high status, she was deeply aware of violent and troubled natures of her young students. In a surprising move, she hired former delinquent Eikichi Onizuka as a teacher in order to guide them.
Appearance
Ryoko is a short woman who is beginning to show signs of wrinkles on her face.
Personality
Ryoko really cares for her students that she is trying any way to bring the school's situation to a better being.
An old woman with a good eye on judging people.
Background
It is stated that Ryoko was a homeroom teacher back in younger years of Misuzu Daimon and she was eventually promoted to be chairman for Holy Forest Academy. Throughout the series, it is implied that she has powerful connections in politics and in society, which allows her to help Eikichi Onizuka in the background. She currently planning to reform the Japanese education system due its negative effects to students.
History
Ryoko first meet Eikichi Onizuka as the woman working at the school's bar, but later will face him in her real shoes and will hire the man as a new teacher of the academy.
The woman will later explain to Onizuka that she likes working occasionally at the canteen, in order to see people's real selves and to judge them better.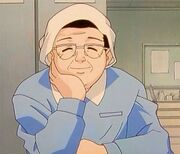 Ryoko truly trusts Onizuka, she defends and supports him in every occasion. The woman sees in him the key to solve the school's problems.
Etymology
The name Ryoko means "good, virtuous, respectable" (良) (ryo) and "child" (子) (ko).
Ryoko's surname Sakurai means "cherry blossom" (桜) (sakura) and "well, mine shaft, pit" (井) (i).

Part of the surname Sakura can also mean "blossom" (咲) (saku) and "good, virtuous, respectable" (良) (ra).
Trivia
Ryoko's grandson is Mayu Wakui, another (delinquent) student enrolled in her school.
Another character from Shonan Junai Gumi also named Ryoko Sakurai was the chairwoman of the tenants' association in the apartment building where Onizuka and his mother lived. After Onizuka and his friends' antics went too far, she threatened to evict the Onizukas if Ms. Onizuka didn't deal with her son. This led to her kicking Eikichi and Ryuji out.